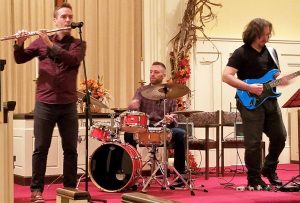 The Daniel Bennett Group Performs at FPCHF
Church and community members alike enjoyed a benefit concert performed
by the Daniel Bennett Group on Saturday, November 18th at 7:00 p.m.
Daniel graduated from HF-L in 1998 and since then has been performing his
original compositions around the world on saxophone, flute clarinet and oboe.
The concert resulted in the Manor School Instrumental Program in receiving a
total of $169 a combination of 10% of the net proceeds as well as donations
received the night of the concert for that cause. The remaining net proceeds of
$179 are slated for Presbyterian Disaster Assistance.
Daylight Saving Time Ends, Sunday, November 5th
Don't forget to turn your clocks back 1 hour before you go to bed on Saturday,
November 4th, or you'll arrive to church the next morning an hour early! Of
course, if that did happen, you'd be able to take part in any of the pre-worship offerings
we have here at First Presbyterian on Sunday mornings like the Bell Choir,
Choir, Adult Bible Study or Adult Forum!
Adult Bible Study
meets in the library every
Sunday morning at 9:15 am
during the Sunday school
year. Please join us any time!
If you have questions, call
Martha Kumler at 624-4463 or
e-mail mskumler@frontiernet.net
What do we believe?
Part one of the Constitution of of
the Presbyterian Church (USA) is
the Book of Confessions. Adult
Bible Study is reading and discussing
the confessions, to learn about
the history and content of each
one. In December we will be studying
The Scots Confession (A.D.
1560). This is the first Reformed
confession in the English language
Christmas Poinsettias
If you would like to purchase a Christmas Poinsettia, please mail or drop off this form to the church office
with a check made out to the First Presbyterian Church no later than Monday,
December 4th. Please write Flow- er Fund in the memo line of the check.
No phone orders will be accepted and payment must accompany all orders.
Plants may be picked up after the 9:00 p.m. Christmas Eve Service.
Those plants not picked up by the end of the service on Sunday, December
31st will be delivered to shut- ins.
Available this year will be 6 ½ inch poinsettias in a variety of colors
(red, white, pink & marble). The cost is $8.00. There will be no choice in
ordering, but you may choose which- ever color you want when you pick up
your plant. Thank you for helping to decorate our sanctuary for Christmas!
If you have any questions, please call Susan Worboys at 624-9803. Thank you.
In Memory of:_______________________________________________________________________
In Honor of:_________________________________________________________________________
Other:______________________________________________________________________________
Given by:___________________________________________________________________________
Number of Plants ___________ X $8.00 each = Total Paid $____________
Findlay Circle News
Findlay Circle members will meet jointly with Fort Nightly members for a Christmas luncheon on Wednesday,
December 6th at Pinehurst Senior Living Center at 1:00 p.m. Questions? Contact Nancy Merritt at 465-9490.
FPCHF Choir to Perform!
On Saturday, December 9th at 2:00 p.m. the FPCHF Choir will perform a Holiday Concert for the residents at
Monroe Community Hospital, along with the Mozart Children's Chorus in the Monroe Community Hospital auditorium,
435 East Henrietta Rd., Rochester, NY 14620. Parking is free in the large lot in the front of the hospital. So plan to
attend and hear some beautiful holiday music and support your church choir!
Coming Soon
A New Church Directory
Created by members of FPCHF!
Our goal is to have a new directory in place when our new pastor arrives!
We need you to:
 Sign up for your photo shoot at FPCHF on:
 Sunday, December 10th
 Sunday, December 17th
 Provide Additional help with taking photographs
 Make phone calls to church members
No appointment needed.
Just show up for your picture, enjoy coffee and fellowship!
If you're interested in helping out, please contact the church office at
624-2160 or secretaryjan@juno.com.
Thanks!
Congregational Meetings Planned
There will be a Congregational meeting on Sunday, December 10th in the sanctuary immediately following
worship to hear the report from the Nominating Committee and to elect officers. The One Hundred Eighty Seventh
annual meeting of the congregation/corporation of FPCHF will be held in the sanctuary immediately following worship
on Sunday, January 28th for the purpose of receiving the annual reports of staff, boards, committees, and program
groups in our congregation; receiving the 2017 financial reports and balance sheet, as of 12/31/2017; receiving the
2018 Income & Spending Plan for the congregation, and to conduct any other appropriate congregation business.
Please hold these meetings in your prayers. If you have business that you would like to bring before either of these
meetings, please inform Rev. Ashby or the Clerk of Session in advance of the meeting. Thanks.
Worship and Communion at Pinehurst -Monday, December 11th, 6:15 p.m.
Please take this opportunity to participate in a wonderful worship experience. Each month we offer a communion
service, shared with our neighbors at Pinehurst Senior Living Center. Our Interim Pastor, Rev. Ashby will be
preaching; Deacons Anne Erway & Barb Altonberg will serve communion and pianist Amy Gray will accompany the
hymns and direct the Bell Choir. There are several blessings to this event:
 The opportunity to share worship with a wonderful community of faith. Quite a few residents at Pinehurst are members &
friends of FPCHF: Deane & Sally Gilbert, Anne Harrison, Ray Milne and Caroline Moffitt.
 The chance to have an additional opportunity to worship.
 An opportunity to worship if you cannot be in church on Sundays, December 10th and/or December 17th.
Christmas Joy Offering
The Christmas Joy Offering is a Presbyterian tradition dating back to 1930 and is one of four special offerings
designated by the General Assembly of the Presbyterian Church (USA). This offering gives congregations the opportunity
to support equally the Assistance Program of the Board of Pensions which helps current and retired church workers
in greatest financial need with respect to housing, medical expenses and unforeseen family expenses and Presbyterian
racial ethnic schools and colleges through student scholarships and assistance with operating expenses.
Please notice in your Sunday morning Advent bulletins on December 17th and 24th bulletin inserts that highlight
ways in which Christmas Joy Offering funds are used to help others. Christmas Joy Offering envelopes will be
present in the Sunday morning bulletin on December 24th and the Christmas Eve bulletins at the 7:00 p.m.
and 9:00 p.m. services. Please give generously. Your kindness is appreciated!
Youth In Our Church

The Director's Dish
November started off with the church's second annual Carhartt Sunday! A cornucopia of winter hats, coats,
and gloves were donated by the congregation. These items will be donated to the Open Door Mission as well as to
the elementary schools in our own district. A tremendous "thanks" goes out to everyone who helped make this year's
Carhartt Sunday a success.
Special "thanks" also from the Christian Education Team to Jane Jezsu, Dorie Russell, Bob and Susan Richardson,
Jennifer Clar, Mark and Leslie Rowe, Barb Altonberg and Theresa Markham for their help in sharing the Sunday
school topics with our children this past November. They covered Elijah and Elisha, Esther, Daniel, and Jonah.
There are serval opportunities still available if you'd like to teach through the winter months. Please contact me, if
you'd like to help. December will be a busy month for students as they will still be covering Isaiah's Word, and The
Annunciation, Mary Visits Elizabeth, Jesus's Birth, and Simeon and Anna.
Karen Schiedel once again got the Middle School youth involved in the thanksgiving basket collection. The
work and effort that goes into this is always greatly appreciated. Getting the youth engaged in mission is extremely
beneficial to their spiritual growth.
Once again, this December, the Gingerbread House and the Candy Cane Cafe will be present and active
during the Teazaar. Bob Richardson has graciously agreed to help lead the Middle School youth with the Gingerbread
House, and John and Dorie Russell will again lead the High School youth with providing lunch to the hungry
Teazaar shoppers. If your kids will be participating, please look for emails from Bob, John or Dorie and me providing
information regarding special setup dates for these events!
The Sunday school youth will also be working to put a video together, with the help of the Puppet Ministry,
that will be shared during the 7:00 p.m. Family Service on Christmas Eve. The video will tell the Christmas story in a
fun and modern way, and we look forward to sharing it with the congregation and community. The Christian Education
Team is very excited about building on the use of technology in the Sunday school program.
Adam Lewis
Director of Christian Education
"Thank Yous"
Dear Friends of Findlay Circle,
Your thoughtfulness is so appreciated!
Thank you so much for the cheery basket full of a nice variety of items. I have the picture, a winter scene, on a
frame in my window. The snow shows up so pretty; I like the beauty of snow scenes.
Thank you again and warmest good wishes to all,
Jean E. Batte
Findlay Circle Members –
I want to thank you for the friendship basket I received from your group. It was so enjoyed and appreciated.
Marge Osterling
The Middle School Sunday School class wants to thank the entire congregation and Creekside Nursery school
teachers and families for the very generous response to our annual Thanksgiving Meal Food Drive to benefit F.I.S.H.
Combined Communities Food Closet families. Our goal was to assemble 10 meals and we actually did 12 meals
(Wow!) Plus some extra items were given directly to the Food Closet for their inventory. Assisting the youth and helping
with the final packing or delivery of the meals were Barb Altonberg, Jen Bianchi, Anne Erway and Karen Schiedel.
Thank you, Honeoye Falls First Presbyterian Church Congregation!
Your donations of food, Thanksgiving baskets and cash are greatly appreciated!
They will help the local families we serve have a happy and healthy holiday.
Gratefully,
Volunteers of the Friends in Service Here (F.I.S.H.)
Combined Communities Food Closet
To Findlay Circle –
We sincerely thank you for the beautiful reception for Sally following the funeral. The food, preparation, and
service were amazing. We have received many compliments on how hard you all worked and how great the food and
service was. We know that Sally would have appreciated your help. Thank you so much.
Bob Sayer & Family
Dear Rev. David Ashby –
Our family and I want to thank you for your amazing support during our difficult time with our mom and wife, Sally.
We want to thank you for your many visits to the hospital as well as the final prayer at Sally's bedside at the hospital.
Lastly the funeral services were beautiful and gave Sally due justice to her life. We thank you.
Sincerely,
Bob & Family
Ways You Can Help
Christmas Eve Service Postcards will be available at the
church starting the first Sunday of Advent (December 3rd), or you can
call the office and ask for a couple, or we can put some in the mail for
you. How easy is that? (Or, if you prefer, you could send a personal
note of your own, or phone, email, text, tweet, or whatever your preferred
form of communication is these days!) And how wonderful it
could be for someone you know and love to be introduced to the love of
God in Christ Jesus and First Presbyterian and to have their hearts
warmed with the Christmas miracle.
Presbyterian "Goings-On"
Presbytery Meeting Report
November 19, 2017
Amy Fowler, Presbytery Leader shared a few statements from the Book of Order
which she felt were very helpful in light of recent national news: Know what is true and act upon
it. Seek to find the will of Christ. Exercise mutual forbearance.
In order to correct an imbalance between clergy and elders at presbytery meetings,
churches with membership over 500 (there are 3) will be able to send more than one elder
commissioner to vote at presbytery meetings. All others, including our church, will send one
elder commissioner.
Three pastors were examined accepted into the presbytery and along with one inquirer.
Rev. Jeffrey Weenink is transferring from the Presbytery of Lake Huron and will serve as
an interim pastor in Pittsford; Rev. J. D. Jackson will be enrolled as a temporary member of
the presbytery and will serve at Trinity Emmanuel; Rev. Ed Bonner will be reinstated and will
continue to serve at a Heritage Christian Services group home. Laura Bachman will be supported
by the presbytery as an inquirer and will begin her seminary education.
Presbytery Grants were awarded to 12 congregations and 12 community agencies,
including First Presbyterian Church of Honeoye Falls. Thank you, Adam Lewis and the session
for applying for a grant to support technology improvements for the Puppet Ministry.
$250 was awarded for that purpose. 2 peacemaking grants were also awarded. The grants
support many inspiring projects including an after school program, a community garden, an
organ concert series, a food pantry, solar lamps for South Sudan, Teen Empowerment,
REACH Advocacy homeless shelter.
After comments were made both on behalf of environmental protection and on the
side of seeking ways through investment to encourage fossil fuel companies to invest in renewable
energy sources, clergy and elder commissioners of the presbytery voted not to support
an overture to the 223rd General Assembly from the Presbytery of Hudson River. The
overture asks for the Board of Pensions and the Foundation to divest from fossil fuel and actively
invest in securities that focus on renewable energy.
The presbytery approved at least three years of support to a new designated presbytery
mission which will be called ROC SALT Mission Center (Rochester Serving and Learning Together).
The mission center will be housed in the former Calvary-St. Andrews site at 68 Ashland
Street, a building that the presbytery still owns. ROC SALT will provide a place where local
youth and adult groups and out-of-town groups can have a residential immersive mission experience.
It will house the existing South Wedge Food Program and it will connect faith-based and
social service organizations. The presbytery will commit $300,000 in capital support and include
$10,000 for the mission in the budget each year in 2019 and 2020. That means that our church,
as members of the presbytery, will be supporting this local mission through our per capita commitment.
It will also provide an opportunity for us as a church to support those in need who live
less than a dozen miles away. ROC SALT will be a place where our youth groups can have a
weekend or week-long mission experience close to home.
The presbytery trustees have completed the sale of Lakeside Presbyterian Church. It
was very important to Lakeside, when they found they must sell their building, that the daycare
center remain available to local families. The new buyer plans to provide space for the daycare
center and to move his music school to the building. Local children will now also have
music education available to them.
The presbytery's 2018 budget was approved. It will be a balanced budget with 30% of
the income coming from investments which have been doing well.
The Presbyterian Mission Agency of PC(USA) reports that $8.7 million has been
raised for Presbyterian Disaster Relief since August. The goal is to raise $30 million for world
mission. Thank you to all who have contributed to Presbyterian Disaster Relief during this very
difficult hurricane season.
The Presbytery Neighborhoods met at lunch and shared some of the things that worked
in their churches. Some of the ideas included having volunteers work by season instead of by
committee and hosting benefit dinners once or twice a year.
Martha Kumler and Mary Faulk attended the meeting as elder commissioners.
Valley Neighbors
Advent and Christmas Activities
December 9th East Avon Presbyterian Church Festival of Cookies (time TBD)
December 10th East Avon Presbyterian Church Children's Pageant (10:00 a.m. worship)
December 12th Lima Christmas Choir Festival. Come enjoy musical ensembles from the Lima churches,
including Lima Presbyterian Church, and participate with singing familiar carols together. Lima
Baptist Church, 1574 Rochester Street, Lima, 7:00 p.m.
December 17th East Avon Presbyterian Church Cantata (10:00 a.m. worship)
December 17th Covington Presbyterian Church Christmas Pageant and Lunch with Santa: on Sunday, December
17, join us at 10:00 a.m. for our pageant, followed by lunch with Santa. Bring a dish to share and
RSVP to Rev. Laura Fry at covingtonpastor@gmail.com with children's names and ages. Church
address: 1701 Craig Rd, Pavilion.
December 21st Honeoye Falls Ecumencial Longest Night Service, including First Presbyterian Church of Honeoye
Falls and Honeoye Falls United Methodist Church, at St. John's Episcopal Church, 11 Episcopal
Ave., Honeoye Falls at 7:00 p.m.
December 23rd Covington Presbyterian Church's Eve of Christmas Eve Service: Join us on Saturday, December
23, 7:00 p.m. for a family-friendly Christmas Candlelight Service of Scripture, music, and prayer.
Our Wider Community
A Christmas Carol
The Bloomfield Rotary Club is sponsoring a very unique performance of Charles Dickens' treasured holiday
classic, A Christmas Carol on Friday, December 1st and Saturday, December 2nd at 7:30 p.m.
The show will be performed as a live radio theatre style production with holiday music and live old-time radio
sound effects. Professionally directed by Greg Cicchino of the NY City based Chain Theatre, local talent from the
Bloomfield Community, students from Bloomfield and Honeoye Falls and actors from the Monsignor Schnacky Community
Players will play the roles of Ebenezer Scrooge, Jacob Marley, the Ghosts of Christmases Past, Present and Future,
Tiny Tim and the other characters from the famous novella by Charles Dickens. The original version by Mr. Dickens has
been adapted and updated by Don Cicchino to give this holiday classic a 1950's upstate NY feel.
The Friday, December 1st performance will be held at Saint Catherine of Siena Church, 26 Mendon-Ionia Rd in
Mendon. The Saturday, December 2nd performance will be at the Performing Arts Center at Bloomfield High School, 11
Oakmount Ave.,Bloomfield. Tickets are $16 per person. Show time – 7:30 p.m. Tickets are available from any Bloomfield
Rotary member or online at www.SaintCathonline.com. For more information call Don at 585-301-0320 or email
BloomfieldNYRotaryClub@gmail.com.
One-Room School House Holiday Social
The Honeoye Falls/Town of Mendon Historical Society will host its annual free Holiday Social at the one-room
schoolhouse in Harry Allen Park, Honeoye Falls on Thursday, December 7th. Everyone in the community is welcome.
Our Schoolmarm, Mary Lynne Parmelee, has promised there will be holiday music, wassail and cookies for all to enjoy.
The Social will begin at 6:30 p.m. and runs until 8:30 p.m. The museum will be open during the same hours. Stop
in the museum and pick up some note cards while you get warm and enjoy the museum's displays. For more information
call Bill Lane at 624-5655.
A Concert of Celebration!
The Sisters of St. Joseph of Rochester and the Striking Strings Hammered Dulcimer Ensemble of the Eastman
Community Music School, under the direction of Mitzie Collins and Linda Sniedze Taggart present a Concert of
Celebration on Friday, December 8th at the Sisters of St. Joseph Motherhouse, 150 French Rd., Rochester, NY
14618.
Enjoy wonderful music while supporting the music program at the Nazareth Elementary School. The
evening's music will feature: The Striking Strings Hammered Dulcimer Ensemble, The Women of Note Vocal Ensemble,
Laurence Sugarman on banjo and the Nazareth Elementary School Children's Choir and more! There will be a
free-will offering to benefit the music program at Nazareth Elementary. All are welcome!
West Bloomfield Congregational Church (WBCC) Annual Cookie Sale
The WBCC, 9035 Routes 5 & 20 in West Bloomfield, will hold its annual Cookie Sale on Saturday, December 9th
from 9:00 a.m. to 1:00 p.m. The sale will feature cut outs and other varieties of holiday favorites, including some gluten
free options. Cookies are available for $8.00/pound.
St. Catherine of Siena's Christmas Meal
St. Catherine of Siena's in the hamlet of Mendon will be hosting a Christmas Meal on Saturday, December 9th
from 3:00-4:00 p.m. in the Schnacky Center. It is free to anyone who would love a delicious meal and great company!
Community Band & FPCHF Bell Choir Christmas Concert
The Honeoye Falls Community Concert Band, under the baton of its director, Lindsey Borden, will present its
annual Christmas Concert on Saturday, December 9th at 7:30 p.m. in the District Auditorium on Quaker Meeting House
Rd. Once again, the First Presbyterian Church of Honeoye Falls' Bell Choir lead by Amy Gray, will join the band in
rounding out the evening's program with a selection of traditional holiday favorites. Please plan to attend, show your
support for the FPCHF bell choir, and prepare yourself for an evening of wonderful music!
Ecumenical "Blue Christmas"/Longest Night Service
An Ecumenical "Blue Christmas"/Longest Night service will be held on Thursday,
December 21st at 7:00 p.m. at St. John's Episcopal Church Parish House, 11 Episcopal Avenue,
Honeoye Falls, NY 14472.
What is a "Blue Christmas" Service? For many people, the approaching Christmas
holiday doesn't bring with it the joy and happiness that's advertised in the media or in greeting
cards. Facing a holiday: after the death of a loved one, after a divorce or separation,
while suffering a life-threatening illness, while coping with the loss of a job, or any other situation
that puts a question mark over our future can leave us feeling overwhelmed and downhearted.
This service is intended to provide a sacred, reflective, and safe gathering time and
space for people to grieve, yet will focus on the message of comfort and hope that God offers
to all of us during difficult times. Everyone within the community is welcome to join us for a quiet, spiritual time in the midst of this busy season. We hope that you'll consider joining us.
Join a Team!
Our teams/committees have dwindled in size over time, and you are invited to look over the team descriptions and decide how you would like to serve Christ within your church. There will be sign-up sheets on the session bulletin board in the hallway where you can indicate your interest. Descriptions of the teams are as follows:
Christian Education Team – Oversees adult, youth, and children's educational ministries in partnership with the Christian Education Director(s). Oversees Senior High and Middle School Youth groups. Meets monthly.
Worship and Music Team – Oversees the worship and music ministry in partnership with the pastor and music leaders. Special worship services, seasonal worship services (Christmas, Easter…), ushers/greeters, lay readers, and candle lighters are among the responsibilities of the team. Meets Monthly.
Finance and Stewardship Team – Oversees the church finances in partnership with the session, the treasurer, assistant treasurer and the financial secretary. Prepares the annual budget, conducts the annual stewardship campaign, arranges for the annual financial review. Meetings are called as determined by the team.
Mission Team – Provides guidance and encouragement for the missions of the congregation. Advocates for special offerings (One Great Hour of Sharing, Christmas Joy Offering, Peace and Global Witness Offering). Oversees and develops the mission portion of the annual budget. Meetings are called as determined by the team.
Fellowship Team – Provides for the fellowship life of the congregation (special events, congregational dinners). Provides for orientation of new members, welcomes guests in worship and provides information about the life of the church, and encourages continued involvement of members. Does an annual review of the membership list. Makes
arrangements for church pictorial directories. Meets monthly.
Personnel Team (Currently Serving Elder is Chair) – The personnel team serves as a support for the church staff and is the go-to team for any concerns. Develops job descriptions, fills positions with assistance from session, works in conjunction with session on annual raises and healthcare options. Does annual reviews for all staff.
Building and Grounds Team – Provides for the upkeep and repair of the buildings and grounds. Organizes work crews (landscaping, painting, gutter cleaning, power washing, repairs, snow shoveling …) and follows a checklist for regular maintenance including heating and air conditioning. Does an annual walk-through of the buildings. Meets
monthly.
Nominating Team (Currently Serving Elder is Chair) – Prepares the nominations for church officers (elders and deacons). The team also secures nominations to fill any unexpired terms, due to resignations, moves, or inability to continue serving. The Book of Order specifies that the chair be a currently serving elder. Other members of the team are: a representative of the deacons, and two at-large members of the congregation. Meetings are called and generally occur in the fall.
Scholarship Team – Invites active senior students to fill out a scholarship application in the spring. Makes decisions on scholarship awards and continuation of scholarships based on preset criteria including college grade point average. Encourages the congregation to contribute to the Scholarship Fund in support of our youth.
The session wishes all a Merry Christmas and a joyful New Year!
Martha Kumler
Clerk of Session
Guide Dog Etiquette
We have two guide dogs in our sanctuary most Sundays and at church events. You will also see them around Honeoye Falls. So that they may do their work and look out for the safety of Morgan and Shawn, please note the following guidelines.
Guide dogs are the guiding eyes for people who are blind or visually impaired, and they are specially bred and trained for this most important job. There are several guidelines people must follow when in the presence of a guide dog to allow for the safety of the dog and its handler. Disregarding these guidelines can distract the dog, which can create a dangerous situation for the dog and its handler.
Please don't touch, talk, feed or otherwise distract the dog while he is wearing his harness. You should allow the dog to concentrate and perform for the safety of his handler.
Don't treat the dog as a pet; give him the respect of a working dog.
Speak to the handler, not the dog. Some handlers will allow petting, but be sure to ask before doing so. If allowed, don't pat the dog on the head, stroke the dog on the shoulder area.
You should not give the dog commands; allow the handler to do so.
Guide dogs team have the right of way.
Don't try to take control in situations unfamiliar to the dog or handler, but please assist the handler upon their request.
When walking with a guide dog team, you should not walk on the dog's left side, as it may become distracted or confused. Ask the handler where you should walk. Depending on the situation, they may ask you to walk ahead of them on their right side, or behind them by their right shoulder.
Never attempt to grab or steer the person while the dog is guiding or attempt to hold the dog's harness. You should ask if the handler needs your assistance and, if so, offer your left arm.
Try not to be over-protective or overbearing when the graduate first arrives home with the new dog. Be thoughtful, patient, and try to inspire confidence in the handler. In time, you will admire the expertise of the team.
Don't expect too much too soon, remember, the dog is young and that complete harmony and confidence takes patience, perseverance and time.
Never give the dog table scraps. You should respect the handler's need to give the dog a balanced diet, and to maintain its good habits.
Don't allow anyone to tease or abuse the dog, allow it to rest undisturbed.
Make sure not to allow your pets to challenge or intimidate a guide dog. You should allow them to meet on neutral ground when all parties can be carefully supervised.
A guide dog should not jump on furniture or go in areas of a home not mutually agreed upon by the family or handler. You can ask the handler to correct any errant behavior or trespassing.
Never let the dog out of the house unsupervised.
From Guide Dog Foundation for the Blind, Inc.