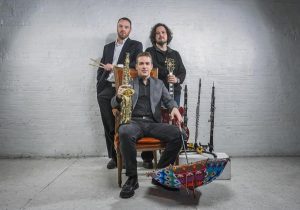 Daniel Bennett Concert Planned for Saturday, November 18th
Save the date! The Fellowship Team of the First Presbyterian Church of Honeoye Falls, 27 N. Main St., Honeoye Falls, is planning to host The Daniel Bennett Group on Saturday, November 18th in the church's sanctuary at 7:00 p.m. Doors open at 6:30 p.m., and tickets will be available at the door for $12; children under 10 are free. Ten percent of the proceeds will go to HFL's Manor school instrumental program for children who do not have funds to rent/buy instruments. CDs will be available for purchase, and complimentary refreshments offered during intermission. You won't want to miss this concert!
New York saxophonist Daniel Bennett has been hailed as one of the most original and unpredictable musical voices of his generation. Daniel Bennett can be heard throughout the world performing his award-winning compositions on saxophone, flute, clarinet, and oboe. The music is a provocative mix of jazz, avant-pop, and surf rock. The Daniel Bennett Group is promoting their latest album, "Sinking Houseboat Confusion" (Manhattan Daylight Media). Bennett is joined by renowned guitarist Nat Janoff and master percussionist Matthew Feick. The band recently performed their New York City album release at the Blue Note. The Boston Globe describes Bennett's music as "a mix of jazz, folk, and minimalism." The trio was recently voted "Best New Jazz Group" in New York City Hot House Magazine. The Daniel Bennett Group has been featured in The Washington Post, Boston Globe, NPR, Indianapolis Public Radio, San Francisco Examiner, St. Louis Public Radio and The Village Voice. The Village Voice raves, "Saxophonist Daniel Bennett makes hay with an airy approach that's buoyant enough to conjure notions of East African guitar riffs and Steve Reich's pastoral repetition." Time Out New York describes the music as, "hypnotic." Daniel Bennett studied saxophone at the prestigious New England Conservatory in Boston.
During his time in Boston, Bennett performed regularly with the Portland Symphony and the New Hampshire Festival Orchestra. Bennett also toured Italy and Switzerland with renowned Boston jazz ensemble, Musaner. In addition to leading his own band, Daniel Bennett performs in Broadway and Off-Broadway theater productions in New York City. Daniel Bennett recently composed the musical score for stage adaptations of Frankenstein and Brave Smiles at the Hudson Guild Theatre in Manhattan. Daniel Bennett recently arranged the music for Whitman at the Whitney, a multimedia theater production at the Whitney Museum in New York City. Daniel Bennett currently plays woodwinds in Blank! The Musical, the first fully improvised Off-Broadway musical to launch on a national stage. The New York Times calls the show, "Witty, Likable and Ludicrous!" Daniel Bennett's theatrical works have strongly influenced his eclectic sound and musical storytelling abilities as a bandleader. The Daniel Bennett Group performs every month at Tomi Jazz in midtown Manhattan. New Yorker Magazine calls Tomi Jazz, "a favorite out-of-the-way Japanese jazz club." Daniel Bennett is an official endorsing artist for Morgan Mouthpieces.
SAVE THE DATE!
Sunday, October 22nd
Congregational Luncheon
for members and friends
following worship in Guild Hall
A Discussion about our
Church's Theological Perspective
Lunch will be provided! Simply bring your appetites
for: a tasty lunch, fellowship, sharing and stimulating
conversation! Childcare will be provided.
This is an opportunity to learn how to discuss,
understand and respect others' views on what
sometimes are volatile topics in a non-divisive way.
Anne Waasdorp from the Committee On Ministry and
David Ashby will lead this discussion.
Proclaim the Peace of Christ
The Peace & Global Witness Offering, October 1, 2017
"So he came and proclaimed peace to you who were far off and peace to those who were near." -Ephesians 2:14-17
The letter to the Ephesians tells us that Jesus came to proclaim a universal peace. While the earthly ministry
of Jesus occurred in a specific age and place, the peace he shared is limited by neither time nor geography. As followers
of Christ, our call to work for peace begins in our own neighborhoods and extends to the ends of the earth. It
is a demanding call, but one that Presbyterians at all levels of the church are seeking to follow.
The Peace & Global Witness Offering builds on the Presbyterian commitment to peacemaking established in
1980 and supports the holistic and wide-ranging witness of the whole church.
At the national level, this witness means supporting those working to heal the divisions in
violent contexts like South Sudan. It means bring- ing leaders together who have made a profound
witness for peace around the world and deploying them to congregations like yours. It means creating
materials that equip congregations to deal with important issues —from disagreements between
members of session to bullying at schools to gun violence in our communities. And it means using
our seat at the United Nations table to speak up for the vulnerable around the world. This Offering
strengthens the collaboration of the Peacemaking Program and the Presbyterian Ministry at the
United Nations with the peace work of global partners through World Mission.
Yet the offering is as much about your local congregation living out a commitment to peacemaking as it is proclaiming
Christ's peace. Twenty-five percent of the Offering stays in your congregation, and 25% is retained by your
mid council, enabling you the freedom to provide support where you need it the most. It has meant two pastors in
Texas starting an organization that seeks civility in political discourse. It has meant supporting the work of a mission
co-worker in finding reconciliation in difficult international contexts. It has meant scholarships for students recognized
as peacemakers, resettlement of refugees, and support for shelters where those who are abused may find refuge.
This Offering sustains our witness in many forms and at all levels of the Presbyterian Church (U.S.A.), but all
are bound together in Christ. Together they are a living proclamation of the peace we know in Christ, who puts an
end to hostility and speaks peace to all, near and far.
Worship and Communion at Pinehurst:
Monday, October 9th, 6:15 p.m.
Please take this opportunity to participate in a wonderful worship experience. Each month
we offer a communion service, shared with our neighbors at Pinehurst Senior Living Center.
Our Interim Pastor, Rev. Ashby will be preaching; Elder Pat Smith will assist along with Mary
Faulk, and pianist Amy Gray will accompany the hymns. There are several blessings to this event:
 The opportunity to share worship with a wonderful community of faith. Quite a few residents at Pinehurst are members
& friends of FPCHF: Deane & Sally Gilbert, Anne Harrison, Ray Milne and Caroline Moffitt.
 The chance to have an additional opportunity to worship.
 An opportunity to worship if you cannot be in church on Sundays, October 8th and/or October 15th.
Findlay Circle News
Findlay Circle members will meet on Thursday, October 12th in the Double Room for basket preparations for
shut-ins, so please be thinking of some names of people who could use and appreciate receiving a basket. There
should be enough baskets available unless participants want to bring some extras they have on hand.
Attendees are asked to bring items with which to fill the baskets i.e., cards, pencils, pens, pads of paper, toothbrushes,
toothpaste, personal care products, packages of treats, cookies, candy, jewelry, scarves or anything else you
think someone who doesn't get out much would enjoy. They really do look forward to these baskets.
Any leftovers will be used for the Totiakton Manor Valentine party in February 2018. All church women are
invited to this meeting. Please bring a sandwich/salad. Dessert and beverage will be provided. Contact Nancy Merritt
at 465-9490 if you have any questions.
Congregational Luncheon Planned
All members and friends of First Presbyterian Church of Honeoye Falls are asked to save the date:
Sunday, October 22nd on their calendars. The Pastor Nominating Committee (PNC) will host a Congregational
Luncheon immediately following worship in Guild Hall to discuss the church's theological perspective. Attendees
need not bring anything but their appetites for a good lunch, fellowship, sharing and stimulating conversation. The
luncheon will give participants the opportunity to learn how to discuss, understand and respect others' views on what
sometimes are volatile topics in a non-divisive way. Rev. Anne Waasdorp from the Committee on Ministry and Rev.
David Ashby our interim pastor will lead the discussion. All are welcome! Childcare will be provided.
Heads up! Another Carhartt Sunday is Planned
Christian Education will once again be taking the lead in promoting another Carhartt Sunday! Last year, it was
wildly successful and, as a church, we collected enough winter clothing items to donate to the local school district,
Goodwill and the Salvation Army! Once again, we encourage you to bring new and slightly used winter clothing items
on Sunday, November 5th to donate to those who will be struggling to stay warm this winter. Both adult and children's
sizes will be welcomed. We also encourage you, if you wish, to wear an article of Carhartt clothing that Sunday to raise
awareness for those who will be without winter clothing. Please help us to make it another great Carhartt Sunday!
There will be a FREE Community Meal
On Sunday, October 29, 2017
4:00-5:00 p.m. in Guild Hall
If you'd like to host this meal
Contact Terry Kosciol at 755-8611
Once a month, First Presbyterian Church opens its doors in hospitality to the community:
 Inviting one and all to enjoy a FREE meal together
 Offering good food & fellowship
 Giving community members an opportunity to meet
 Giving neighbors a chance to visit
 Allowing friends time to catch up with one another
 Opening our sanctuary for a time of peace & reflection
Christ Caring for People Through People!
45th Annual Teazaar
Our 45th annual Teazaar or Christmas Bazaar, is just two months away! Please be thinking about your participation
and/or contributions to the Teazaar. We had great support from both men and women last year, and we're
counting on the same support this year.
We've already been given some very nice pre-enjoyed Christmas items, so we have a good start on our
"Treasures from Christmas Past" area, but we're hoping for more. Because of storage limitations, we do ask that you
hold your "treasures" until Teazaar week, beginning Monday, November 27th, unless you have made prior arrangements
with Karen Schiedel.
We can always use more costume jewelry. Please look at your own collection and ask co-workers, relatives and
friends if they have any they would consider donating. Jewelry can be dropped off to Karen Schiedel at any time. For
our Giffle (Gift Raffle) this year, we will again be selling tickets for chances to win one of three Honeoye Falls Market
Place (HFMP) grocery gift cards. We will be selling tickets on 3 or 4 different days in the vestibule of HFMP. Volunteers
will be needed for ticket sales, probably in two hour shifts. Why not grab a friend and sell tickets together! Last year,
one married couple called it a "date night", and sold tickets together. Now that's a bonding experience for sure!
Teazaar Worker Sign-Up sheets will be posted on the small bulletin board near the kitchen in early November.
If you want to know more about the Teazaar or if you have any questions, please contact Karen Schiedel at 624-4364
or KSSchiedel@aol.com.
The Director's Dish
Christ in Education
The Christian Education year is off to a great start! A tremendous thank you goes out to
those who helped with Rally Day and have volunteered to teach Sunday school! The new curriculum
has been received very nicely by both students and teachers. Each week is an individual unit,
and the topic is the same across all age ranges. We hope that this continues to generate dialog,
both at church and at home, among the youth and their parents. We are running a pilot program
until the end of November, where we are suspending the traditional Family Sunday, to allow for optimal application of
the new curriculum. This means that there will be Sunday school every week for the Pre K – 5th Grade classes. For
the Middle and High School youth, curriculum material will be offered weekly, however, they will still have the opportunity
of assisting with/participating in worship on the last Sunday of the month. This approach will be reassessed at
the end of November.
In September, the youth covered In the Beginning, God's Covenant with Noah and Abraham and Sarah. For
October, they will be discussing, in class, the topics of Rebekah and Isaac, Jacob, Joseph and His Brothers, Joseph
in Egypt and Deborah. We have openings for Sunday school teachers for the month of October; we encourage you to
sign up. It's a great opportunity to get to know the kids of the church and to help guide future generations.
The Puppet Ministry had a first in the sense that they produced their first ever video. They
helped to introduce the Presbytery Meeting that was hosted at the church, on September 26th. This
video is on YouTube. Please check it out. This was the second time that they assisted in a Presbytery
Meeting; the first time they performed the blessing, live, prior to dinner. They look forward to
future endeavors involving technology. This will not be their last video!
The Middle School youth, will once again be participating in the Thanksgiving Basket Drive,
which will begin towards the end of October. Please keep your eyes open for ways you can help with
this cause. A big "thank you" goes out to Karen Schiedel for heading this up again!
Here's to a great year, and we encourage you to volunteer your time, however you see fit, in
Christian Education!
"The way we talk to our children becomes their inner voice." – Peggy O'Mara
Adam Lewis
Director of Christian Education
First Presbyterian Church of Honeoye Falls
adamlewisced@yahoo.com
Northeast Christian College Fair
The Northeast Christian College Fair will be held on Tuesday, October 17th from 7:00-9:00 p.m. at The Charles
Finney School, 2070 Five Mile Line Rd., Penfield. Over 20 Christian colleges will be represented. A special opportunity for
parents to attend a session on navigating the college financial process will be available. More information may be found at
www.NACCAP.org. Questions? Call the Office of Admissions at Roberts Wesleyan College, 594-6400.
Keeping In Touch
Longtime FPCHF members, Jack & Barb Dick, made the news in a Rochester Democrat & Chronicle article
this past summer when they were both chosen to serve on the same Monroe County Court jury after it was determined
that neither would affect the other's decision – a definite rare occurrence for both a husband and wife to be seated on
the same jury! They served on a drunken driving trial where the jury ended up voting for acquittal due to insufficient
evidence. Way to go Jack and Barb for performing your civic duty!
Thank Yous
Thank You to everyone who responded to the need for Church World Service Hygiene Kits, School Kits and
Emergency Clean-Up Buckets. Your efforts will reach far and wide to the many, people affected by hurricanes Harvey,
Irma & Maria! You have truly shown Christian witness to your neighbors in our own country as well as those in countries
in the Caribbean.
The Mission Team
The American Red Cross holds 5 Blood Drives here at FPCHF during our program year. The summer blood drive is usually held at the Honeoye Falls Ambulance
on East St. which is air conditioned. Below is a thank you from the American Red Cross regarding the blood drive held here on September 13th.
Good Morning Jan…The drive did really well. The staff collected 21 units which will impact up to 63 LIVES!
Thank you…
Sincerely,
Roberta Kyrk, Account Manager, American Red Cross
A huge "thank you" to everyone who volunteered to assist with the
recent Presbytery meeting held here on September 26th.
Thanks to the: "Parking-Guiders", "Greeters", "Registration-Helpers", "Beverage-Makers", "Refreshment-Providers"
"Setter-Uppers", "Dessert-Makers", "Cutter-Uppers", "Meal/Beverage-Helpers", and "Cleaner-Uppers"
Many of you helped out in more than one way!
Thanks also to Karen Schiedel and Jan Dixon for their gracious support.
Special thanks to Adam Lewis & the Puppet Ministry for preparing a video-taped puppet welcome
to our church at the beginning of the worship service
and to Sue Belcher for playing the organ.
Because of your help, we all succeeded in making our Presbytery guests feel welcome!
With appreciation,
Phyllis Fritz
Presbytery meeting Coordinator
Dear Church members,
A heart felt "thank you" to all those who contributed to the monetary donation ($635) raised on Sunday, September
24th which was used to purchase baby supplies and school supplies for the Presbyterian community church,
Kirk of the Keys, in Marathon, Florida. These supplies were shipped 3 short days later. Thank you so very much!
Ron & Phyllis Fritz
Ways You Can Help
Dear friends,
Your congregation has always been attentive to the least of these – and we've been so grateful that you include
us as a partner in your mission to care for others. Through your support of the [Church World Service] CWS Kits
program, you've faithfully provided hope and resources to those in crisis over the past few
years.
Given your heart for ministry, we want- ed to keep you posted about our most recent response…
Even now, we are getting ready to send well over 100,000 CWS Kits and Blankets to
people who have experienced sudden and sweeping loss.
As we move to action, we invite you to pray with us. There is strength when we petition
for and lament with our neighbors in one voice.
If your congregation is looking for a hands-on way to help, [The Mission Team has
promoted a CWS Kit Drive here at FPCHF] here are two meaningful ways you can do so:
 Assemble CWS Hygiene Kits, [School Kits] or Emergency Cleanup Buckets with your congregation and drop them
off at a kit depot near you. [Downtown Presbyterian has agreed to be a Kit drop-off point, and FPCHF Kits
will be delivered there by September 30th.] Kits will be shipped to local organizations who request them.
 You can always support kits through a congregational donation to ensure that CWS can respond effectively and
efficiently.
Thank you for serving as the backbone of these initiatives…
Gratefully,
Matthew Stevens, Director of Congregational Giving, Church World Service
Walk a Mile in My Shoes
Willow Domestic Violence Center (formally
Alternatives for Battered Women) will be holding its
10th Annual "Walk a Mile in My Shoes" on Saturday,
October 14th from 10:00 a.m. to noon at Ontario
Beach Park, 50 Beach Ave., Rochester, NY 14612.
All are welcome to join in on this family-friendly one
mile walk at the beach, with food, music, raffles, a
photo booth, and more!
Step 1: Sign up! – Visit WillowCenterNY.org to register today. $10 pre-sale until September 1st. $20 admission.
Free for children 12 and under.
Step 2: Recruit your team and create your fundraising page! – Ask neighbors, friends, family and co-workers to
walk with you.
Step 3: Walk with Willow! For more information, call 232-5200 or visit WillowCenterNY.org/events.
St. Peter's Soup Kitchen Volunteer Opportunity!
A sign-up sheet has been posted on the Mission Bulletin Board across
from the Kitchen in the hallway leading into Guild Hall for volunteering at St. Peters
Kitchen on Wednesday, October 25th. Please consider coming. Volunteers
leave the church at 9:00 a.m. on the 4th & 5th Wednesdays of the month and return
by 2:00 p.m. All you need to bring is a cap, an apron and a willingness to
serve! If you have any questions feel free to contact Barb Mueller at 624-7977 or
bmueller@rochester.rr.com.
Thanksgiving Meals for F.I.S.H. Food Closet
Our Middle School Sunday School class is again spearheading the collection of food items to provide Thanksgiving
meals for F.I.S.H. (Friends in Service Here) Food Closet families. This has been a mission project of the Middle
School class for several years.
The local F.I.S.H. Combined Communities Food Closet which servers Honeoye Falls, Mendon and West
Bloomfield is serving more families than ever. We have committed to provide 10 meals this year. We are very
pleased that for the 6th year, Creekside Nursery School teachers and parents are partnering with us in this effort.
Thank you Creekside!
We will have request slips for various items needed for the meals. These slips will be available beginning
on Sunday, October 22nd.
If you would like to help:
 Please take one (or more if you like) request slips
 Purchase the item or items on the request slip
 Put the items in a bag and tape your request slip to the outside of the bag
 Leave the items in the church kitchen.
Non-perishable items (canned goods, etc.) can be brought in any time beginning October 29th
NOTE Margarine and butter must be placed in the refrigerator in the church kitchen.
Perishable items (potatoes, apples, squash) should come in Sunday, November 12th , Monday, November
13th, Tuesday, November 14th or Wednesday, November 15th. Final packing of the meals will be on
Thursday, November 16th and the meals will be delivered on Friday, November 17th.
If you choose to buy a Honeoye Falls Market Place $10.00 gift card (given to each family to purchase milk,
bread or perishables closer to Thanksgiving or to purchase missing meal items), please give it to Karen Schiedel or
church secretary, Jan Dixon.
Questions? Contact Karen Schiedel, Middle School Sunday School teacher, ksschiedel@aol.com or 624-4364.
Thank you!
Presbyterian "Goings-On"
What's on my Mind… on my Heart… and in my Prayers!
Who's at First? Can you tell the players without a program?
As we near the end of the baseball season, I am reminded of Abbott and Costello's famous routine as I ask
you to pray for our congregations who have new pastoral leadership, and for our pastoral leaders, coming or going,
who have new responsibilities. Since we experienced a number of retirements in 2015, we are saying good-bye and
thank you to Interim Pastors and hello to new pastors. So, in no particular order, here are our recent changes:
First Caledonia– good-bye and thank you to Interim Pastor Bill Schramm, and hello to Pastor Rebecca
Chaffee. Bill is now serving a church in Pennsylvania.
First Brockport– good-bye and thank you to Interim Pastor Alan Dailey and hello to Pastor Nick Dorland.
First Medina– good-bye to Interim Pastor Ron Sumption, and hello to Stated Supply Pastor William Wilkinson, who
formerly served at Trinity Emmanuel. Ron is now serving the Presbytery of Western New York at the Westfield church.
Trinity Emmanuel– hello to J.D. Jackson, Supply Pastor coming to us from the United Church of Christ, under
the formula of agreement.
Perinton– hello to Interim Pastor Jim Latta, who we will examine for transfer of membership at our September
26th Presbytery meeting.
South– hello to Katrina Hebb, who we will examine for ordination at the September Presbytery meeting, and, if
the way be clear, approve her position as Stated Supply Associate Pastor.
Livonia Center– hello to Stated Supply Pastor Jamie Tyrrell, who is an honorably retired member of Geneva
Presbytery. We celebrated CRE Anne Martin's service to the church at the June Presbytery meeting.
We continue to have Interim Pastors serving at Ogden, Union Scottsville, Honeoye Falls, and East Avon. We
are in midst of transformation as we ask God, in each place, "What is your call to us now, and next?"
Please also join me in prayer for the Rev. Encie Stevens, HR, and the Rev. Lisette Russell, who are being
treated for recurring cancer. Lisette requests prayers also for her husband who continues to receive cancer treatments.
Grace and peace,
Rev. Amy Fowler, Presbytery Leader
From the September edition of the Genesee Valley E-News
Presbytery Meeting Report
September 26, 2017
The presbytery expressed great appreciation and thanks to all the many volunteers who made
the meeting and dinner at FPCHF a success. Our building, it seems, is perfectly designed for a presbytery
meeting. Special thanks go to Phyllis Fritz who served as our coordinator and Jan Dixon and
David Ashby who designed and printed many signs that helped people flow smoothly through the
building. Loans of fans and air conditioners made a very warm event more bearable and were appreciated
by all.
From a four-hour meeting, here are some highlights:
Amaury Tanon-Santos, Synod Networker, not only reported on synod events and appreciation
of work going on within the presbytery, but also provided the sermon for the worship service. He
preached on Paul's Letter to the Philippians and then asked, if we were to write such a letter to our
church, what would it say? How do we want to be remembered as a church?
Both the subject of one of the pre-meetings, and a report to presbytery was Christians Witnessing
for Palestine. David Sperber, a Jewish physician, urged us to distinguish between the Jewish
faith and the Israeli government. As a Jew, he and other members of his family have experienced anti-
Semitism and as a young man he said he was willing to die for Israel. Now he believes that a stance
against the immoral policies of the Israeli government is not anti-Semitic, but a moral duty to stand up
for human rights.
There has been a pilot project in progress over the last two years in which five churches have
taken part. It consists of a series of eight workshops entitled Activating Our Missional Congregation.
Each church examines their present mission projects and goals and examines what is working and
what can be improved.
The Budget Development and Oversight Committee presented a first reading of the 2018
budget proposal. There has been a 4% per year decline in congregation's mission donations and a 4%
decrease in Per Capita each year over the last several years as churches decrease in size. The presbytery
approved a 2018 Per Capita of $31.26 of which $19.43 supports the Presbytery of Genesee
Valley.
LifelongFaith Associates will present two opportunities for learning on November 3rd and 4th.
The first is Faith Formation for Every Adult in the Congregation and the second is Nurturing Children's
Faith in the 21st Century. Rev Ashby and our Christian Education leaders can provide more information
about these events.
Katrina Hebb was examined for ordination and presbytery membership. A written biography
and statement of faith comes in the mailed docket and based on those the candidate is questioned.
Katrina answered such questions as, "What does justice look like, and how do you know it when you
see it?" and "Elaborate on your understanding of the Lord's Supper as a sacrament." Katrina gracefully
and thoughtfully answered a number of questions and was approved for ordination and membership.
Rev. Jim Latta was also approved as a member of the Presbytery of Genesee Valley (transfer
from the Presbytery of Shenango) after a much briefer examination.
After going through a three-year discernment process, the Brighton Presbyterian Church was
dismissed by the Genesee Valley Presbytery and their building will be sold to them. They have a current
membership of fewer than 30, and will petition to become part of the Evangelical Presbyterian
Church in the Alleghenies Presbytery.
A first reading of the Policies and Procedures Manual was presented. It was the end of a long
meeting on a very hot evening, so it was suggested that questions be sent to the presbytery or written
on index cards that were provided. A second reading and vote on approval will take place at the November
meeting.
The meeting closed with prayer at 8:15 p.m.
Martha Kumler, Elder Commissioner
(Mary Faulk, Elder Commissioner also attended.)
Valley Neighbors Crop Walk participants at Hemlock Park, Sunday, September 17th
Mark Your Calendars Now for Another Activity with our Valley Neighbors!
Neighbors,
This is to confirm the Food Pantry/Food Ministries event for Thursday, October 26th, at 6:30 p.m. at Central Presbyterian
Church in Geneseo. Participants will provide dishes for a shared dinner from recipes to be provided. More information to follow.
In Christ,
Nancy
Rev. Dr. Nancy E. Lowmaster
Pastor, Central Presbyterian Church
Annual Penny Pincher Sale
The First Presbyterian Church of Pittsford, 21 Church St., Pittsford, will be holding its annual penny Pincher
Sale on Thursday, October 5th from 10:00 a.m.-5:00 p.m. and on Friday, October 6th from 10:00 a.m.-12:00 p.m. for ½
Price and from 12:00 p.m.-1:30 p.m. at $2/Bag! Featured items for sale will include: toys, antiques, furniture, tools,
books, kitchenware and so much more! For more information call Liz Mehalso at 223-3052.
Our Wider Community
Country & Blue Grass Jam
East Bloomfield United Methodist Church, at the corner of 2 Park Place and 5&20, will be hosting its last 2017 Country
Blue Grass Jam on Wednesday, October 11th from 3:00-7:00 p.m. Great music and food along with wonderful fellowship
will be had. All are welcome! Turkey dinners are $8.00; children under 5 are FREE!
No Need to Cook!
St. John's Episcopal Church, 11 Episcopal Ave., Honeoye Falls, will
be holding at Spaghetti/Lasagna Dinner on Saturday, October 14th from 5:00-
7:00 p.m. You have the choice of one of two luscious dinner entrees – either
spaghetti or lasagna along with salad and dessert. Prices are: Adults – $10;
Seniors – $8; Children 5 and up – $5; Children 4 and under –free! Running
concurrently with the dinner will be a bake sale where you may buy some additional
tasty treats to take home with you!
Celtic Spirituality for Modern Life
The United Church of Christ, 8758 Main St., Honeoye, NY will be hosting a
series of sessions on Thursday nights (October 5, 12, 19 & 26) beginning on Thursday,
September 21st from 7:00-8:00 p.m. about Celtic Spirituality and its relevance in
the current challenges and events in our daily lives. Based on the Celtic Spirituality
bestseller, "Water from an Ancient Well" and presented by the author and newly hired
church pastor, Kenneth McIntosh, each session is designed to be self-contained. Participants
are welcome to attend when they can on Thursday nights through November
16th except November 9th when there will be no session.
Explore an ancient, earth-honoring way of living skillfully including topics such
as: Spiritual Romance, the Divine in the Everyday, Sacred Presence in Nature,
Furred and Feathered Friends, Sacred Hospitality and more. Gatherings include: music,
meditation, presentation, discussion and snacks and are free and open to the public.
To learn more contact 585-371-8880 or email honeoyeucc@gmail.com.
Honeoye Falls-Mendon Historical Society Meeting
A meeting of the Honeoye Falls-Mendon Historical Society
will be held on Thursday, October 5th at 7:30 p.m. at the Mendon
Community Center, 167 North Main Street, Honeoye Falls
and will feature Christine Ridarsky who will be speaking about
"Suffragists in Every Town and County ; How New York Women
Won the Vote".
As New York celebrates the 100th anniversary of its woman
suffrage amendment in 2017, this talk will shed light on some
of the movement's hidden foot soldiers and explore the strategies
and tactics that they and their leaders used in their long battle –
from the first woman's convention in Seneca Falls in 1848 to passage
of the state's woman suffrage amendment in 1917.
Christine is the City of Rochester Historian. She has a Master's Degree in American History from the College
at Brockport and has completed work toward a PhD at the University of Rochester. She is co-editor of Susan B. Anthony
& the Struggle for Equal Rights. The meeting is open to the public. For further information call 624-5655.
Monroe County Elder Law Fair & Office for the Aging Public Hearing
This year's Elder Law Fair will be held on Monday, October 16th from 7:45 a.m.-12:40 p.m. at Temple B'rith Kodesh,
2131 Elmwood Ave., Rochester, NY 14618. It's intended for older adults and their families confronted with a number
of legal issues pertaining to health and long-term care planning. The Elder Law Fair provides FREE, objective information
on a variety of legal topics to assist with both current and future planning. It is geared for older adults,
family members, caregivers, case managers, and others in the field of aging and long-term care. Registration is requested,
although walk-ins are welcome. Space for each workshop is limited so register early. Call 585-371-8429 or
go online: http://monroecountyelders.eventbrite.com.
Schedule of Events:
7:45-8:15 a.m. Registration, Exhibitors & Refreshments
8:15-8:30 a.m. Welcome & Keynote –Jill Cicero, President, Monroe County Bar Association
8:30-9:15 a.m. Monroe County office for the Aging Public Hearing
9:20-10:20 a.m. Workshops:
Basic Estate Planning
Long-Term Care
Estate Administration
Roundtable Discussions:
1A: Consumer/Scam Issues
1B: Issues in Care for Adults without Family
10:30-11:30 a.m. Workshops:
Adult Guardianship
Medicare Basics
Medicaid in Plain English
Roundtable Discussions:
2A: Medicaid Home Care Programs
2B: Long Term Care Insurance
11:40 a.m.-12:40 p.m. Workshops:
Consumer Issues
Baby Boomer's Guide to Social Security
Supplemental Security Income (SSI) & S.S. Disability
Roundtable Discussions:
3A: Assisted Living & Nursing Home Contracts
3B: Issues in Care for Adults without Family
There will be opportunity to meet one-on-one with a lawyer for free 15 minute consultations which may be registered
for from 7:45-9:15 a.m. the morning of the event.
Honeoye Falls United Methodist Church
Rummage Sale
The Honeoye Falls United Methodist Church, 31 East
Street, will be holding its annual fall Rummage Sale on
Thursday, October 19th from 6:00-9:00 p.m.; Friday, October 20th from
9:00 a.m.-12:00 p.m. and 1/2 price sale from 3:00-7:00 p.m. and
Saturday, October 21st 9:00 a.m.-12:00 p.m. with $3 & $5 Bag
Sale. Donations may be dropped off on Sundays at noon.
Rush United Methodist Church's 74th Annual Turkey Dinner
The Rush United Methodist Church, 6200 Rush-Lima Rd., will hold its annual turkey dinner on
Saturday, October 21st from 4:30 p.m. until they run out of food! A bake sale and Bazaar which helps supports the
church's mission through PromiseLand Child Care & Nursery School will take place from 4:00-7:00 p.m. Instead of a
set price for the dinner, diners are requested to give a cash donation which goes to the church or a bag of nonperishable
food/personal care items which will go to RHAFT, the Rush-Henrietta Area Food Terminal.
United Church of Bristol's Fall Turkey Dinner/Bazaar & Candy Sale
The United Church of Bristol, 7177 County Rd. #2, Bloomfield, will be holding is annual Turkey Dinner, Bazaar
and Candy sale on Saturday, October 21st from 4:00 – 7:00 p.m. (doors open at 3:00 p.m.)
The menu includes: roast turkey, dressing, mashed potatoes & gravy, squash, applesauce, rolls & butter, pie
and beverage.
Ticket prices are: Adults – $10.00, Children (5-12) – $5.00 and Children under 5 – FREE and may be purchased
at the door. There will be live entertainment, and take-outs will be available. For more information call 657-7030.
Lutheran Church of the Incarnate Word,
Henrietta United Church of Christ,
Trinity Reformed Church and
Third Presbyterian Church
Invite You to a Worship Service
Commemorating the 500th Anniversary of the Reformation
Sunday, October 29
3:00 p.m.
Third Presbyterian Church, 4 Meigs St., Rochester
Featuring:
prayers, hymns, sermon and the Sacrament of the Lord's Supper
All are welcome!
For further information contact 271-6513 or jwilkinson@thirdpresbyterian.org
Join a Team!
Our teams/committees have dwindled in size over time, and you are invited to look over the team descriptions and decide how you would like to serve Christ within your church. There will be sign-up sheets on the session bulletin board in the hallway where you can indicate your interest. Descriptions of the teams are as follows:
Christian Education Team – Oversees adult, youth, and children's educational ministries in partnership with the Christian Education Director(s). Oversees Senior High and Middle School Youth groups. Meets monthly.
Worship and Music Team – Oversees the worship and music ministry in partnership with the pastor and music leaders. Special worship services, seasonal worship services (Christmas, Easter…), ushers/greeters, lay readers, and candle lighters are among the responsibilities of the team. Meets Monthly.
Finance and Stewardship Team – Oversees the church finances in partnership with the session, the treasurer, assistant treasurer and the financial secretary. Prepares the annual budget, conducts the annual stewardship campaign, arranges for the annual financial review. Meetings are called as determined by the team.
Mission Team – Provides guidance and encouragement for the missions of the congregation. Advocates for special offerings (One Great Hour of Sharing, Christmas Joy Offering, Peace and Global Witness Offering). Oversees and develops the mission portion of the annual budget. Meetings are called as determined by the team.
Fellowship Team – Provides for the fellowship life of the congregation (special events, congregational dinners). Provides for orientation of new members, welcomes guests in worship and provides information about the life of the church, and encourages continued involvement of members. Does an annual review of the membership list. Makes
arrangements for church pictorial directories. Meets monthly.
Personnel Team (Currently Serving Elder is Chair) – The personnel team serves as a support for the church staff and is the go-to team for any concerns. Develops job descriptions, fills positions with assistance from session, works in conjunction with session on annual raises and healthcare options. Does annual reviews for all staff.
Building and Grounds Team – Provides for the upkeep and repair of the buildings and grounds. Organizes work crews (landscaping, painting, gutter cleaning, power washing, repairs, snow shoveling …) and follows a checklist for regular maintenance including heating and air conditioning. Does an annual walk-through of the buildings. Meets
monthly.
Nominating Team (Currently Serving Elder is Chair) – Prepares the nominations for church officers (elders and deacons). The team also secures nominations to fill any unexpired terms, due to resignations, moves, or inability to continue serving. The Book of Order specifies that the chair be a currently serving elder. Other members of the team are: a representative of the deacons, and two at-large members of the congregation. Meetings are called and generally occur in the fall.
Scholarship Team – Invites active senior students to fill out a scholarship application in the spring. Makes decisions on scholarship awards and continuation of scholarships based on preset criteria including college grade point average. Encourages the congregation to contribute to the Scholarship Fund in support of our youth.
The session wishes all a Merry Christmas and a joyful New Year!
Martha Kumler
Clerk of Session
Guide Dog Etiquette
We have two guide dogs in our sanctuary most Sundays and at church events. You will also see them around Honeoye Falls. So that they may do their work and look out for the safety of Morgan and Shawn, please note the following guidelines.
Guide dogs are the guiding eyes for people who are blind or visually impaired, and they are specially bred and trained for this most important job. There are several guidelines people must follow when in the presence of a guide dog to allow for the safety of the dog and its handler. Disregarding these guidelines can distract the dog, which can create a dangerous situation for the dog and its handler.
Please don't touch, talk, feed or otherwise distract the dog while he is wearing his harness. You should allow the dog to concentrate and perform for the safety of his handler.
Don't treat the dog as a pet; give him the respect of a working dog.
Speak to the handler, not the dog. Some handlers will allow petting, but be sure to ask before doing so. If allowed, don't pat the dog on the head, stroke the dog on the shoulder area.
You should not give the dog commands; allow the handler to do so.
Guide dogs team have the right of way.
Don't try to take control in situations unfamiliar to the dog or handler, but please assist the handler upon their request.
When walking with a guide dog team, you should not walk on the dog's left side, as it may become distracted or confused. Ask the handler where you should walk. Depending on the situation, they may ask you to walk ahead of them on their right side, or behind them by their right shoulder.
Never attempt to grab or steer the person while the dog is guiding or attempt to hold the dog's harness. You should ask if the handler needs your assistance and, if so, offer your left arm.
Try not to be over-protective or overbearing when the graduate first arrives home with the new dog. Be thoughtful, patient, and try to inspire confidence in the handler. In time, you will admire the expertise of the team.
Don't expect too much too soon, remember, the dog is young and that complete harmony and confidence takes patience, perseverance and time.
Never give the dog table scraps. You should respect the handler's need to give the dog a balanced diet, and to maintain its good habits.
Don't allow anyone to tease or abuse the dog, allow it to rest undisturbed.
Make sure not to allow your pets to challenge or intimidate a guide dog. You should allow them to meet on neutral ground when all parties can be carefully supervised.
A guide dog should not jump on furniture or go in areas of a home not mutually agreed upon by the family or handler. You can ask the handler to correct any errant behavior or trespassing.
Never let the dog out of the house unsupervised.
From Guide Dog Foundation for the Blind, Inc.