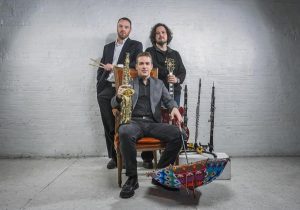 Save the date! The Fellowship Team of the First Presbyterian Church of Honeoye Falls, 27 N. Main St., Honeoye Falls, is planning to host The Daniel Bennett Group on Saturday, November 18th in the church's sanctuary at 7:00 p.m. Doors open at 6:15 p.m., and tickets will be available at the door for $12; children under 10 are free. Net proceeds donated to Manor School Instrumental Program and Presbyterian Disaster Assistance.  CDs will be available for purchase, and complimentary refreshments offered during intermission. You won't want to miss this concert!
New York saxophonist Daniel Bennett has been hailed as one of the most original and unpredictable musical voices of his generation. Daniel Bennett can be heard throughout the world performing his award-winning compositions on saxophone, flute, clarinet, and oboe. The music is a provocative mix of jazz, avant-pop, and surf rock. The Daniel Bennett Group is promoting their latest album, "Sinking Houseboat Confusion" (Manhattan Daylight Media). Bennett is joined by renowned guitarist Nat Janoff and master percussionist Matthew Feick. The band recently performed their New York City album release at the Blue Note. The Boston Globe describes Bennett's music as "a mix of jazz, folk, and minimalism." The trio was recently voted "Best New Jazz Group" in New York City Hot House Magazine. The Daniel Bennett Group has been featured in The Washington Post, Boston Globe, NPR, Indianapolis Public Radio, San Francisco Examiner, St. Louis Public Radio and The Village Voice. The Village Voice raves, "Saxophonist Daniel Bennett makes hay with an airy approach that's buoyant enough to conjure notions of East African guitar riffs and Steve Reich's pastoral repetition." Time Out New York describes the music as, "hypnotic." Daniel Bennett studied saxophone at the prestigious New England Conservatory in Boston.
During his time in Boston, Bennett performed regularly with the Portland Symphony and the New Hampshire Festival Orchestra. Bennett also toured Italy and Switzerland with renowned Boston jazz ensemble, Musaner. In addition to leading his own band, Daniel Bennett performs in Broadway and Off-Broadway theater productions in New York City. Daniel Bennett recently composed the musical score for stage adaptations of Frankenstein and Brave Smiles at the Hudson Guild Theatre in Manhattan. Daniel Bennett recently arranged the music for Whitman at the Whitney, a multimedia theater production at the Whitney Museum in New York City. Daniel Bennett currently plays woodwinds in Blank! The Musical, the first fully improvised Off-Broadway musical to launch on a national stage. The New York Times calls the show, "Witty, Likable and Ludicrous!" Daniel Bennett's theatrical works have strongly influenced his eclectic sound and musical storytelling abilities as a bandleader. The Daniel Bennett Group performs every month at Tomi Jazz in midtown Manhattan. New Yorker Magazine calls Tomi Jazz, "a favorite out-of-the-way Japanese jazz club." Daniel Bennett is an official endorsing artist for Morgan Mouthpieces.